Jen Adrian, MS, is Creative and Communication Manager at the Emergent Media Center.
Asking a group of individuals who have never worked together before to deliver an assignment or task can have varying results. Collaboration is not always an innate skill. More often, it's a learned skill. Providing opportunities to learn and practice these skills can enhance group work outcomes. I'll explain ways the Emergent Media Center (EMC) creates a collaborative and engaging learning environment and how you can implement them in your courses.
Providing Foundations Sets a Team Up for Success
How can project-based learning and collaboration create a more engaging classroom experience for your students? And what kind of strategies and scaffolds can support collaboration and team dynamics in your classroom to make group work more successful for both you and your students?
One way to accomplish these goals is using a scaffolded approach that builds creative confidence skills within experiential learning opportunities.
In the EMC, we have observed that spending some time before starting projects and providing strong foundations sets a team up for success. Before teams start working together,
We get to know each other, discuss group communication, organization, expectations, and how we are going to handle accomplishing tasks.
We set up a foundational approach for the students to use together before they start working on projects.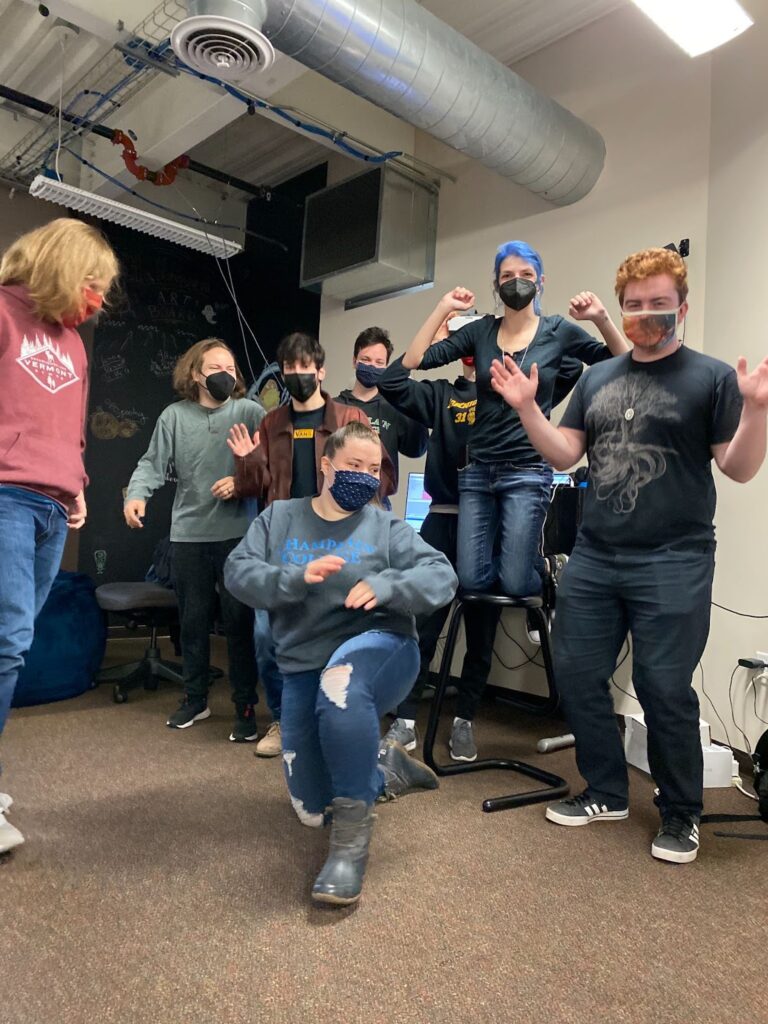 Methods to Jumpstart Working Together
The EMC uses parts of Scrum methodology for project management and it could easily be applied to project-based work in the classroom. Scrum is a cyclical framework for keeping collaborative projects organized and timely by breaking them into manageable, trackable components.
Teams review tasks together to determine how to accomplish them and choose how individuals will contribute. This approach empowers students to self-organize, create, innovate, make decisions together, and truly collaborate. It results in increased student engagement, higher quality deliverables, and a dynamic and rewarding learning environment for students and professors.
"Scrum was a great way to maintain consistent communication with teammates and understand a greater sense of where we were in each part of the project."

EMC student employee, Fall 2021
Here are just a few of the payoffs of our approach.
Autonomy
Individuals can contribute to tasks they are able and willing to work on within a specific time period. This offers the group a way to formulate and commit to a strategy for completion of tasks within a project or assignment.
Potential implementation // Ask teams, "how will you break an assignment or project down into manageable tasks?" As part of the assignment, ask groups to openly discuss a list of tasks to complete in order to produce their deliverable. This could happen several times during the assignment or project.
Review and Feedback
Team members are encouraged to review each other's work and provide feedback or insights continuously throughout the life of a project. Innovation occurs when team members spark off of each other's contributions. Feedback from peers (and you) builds trust and creativity.
Potential implementation // Create a Google Doc or Jamboard and model content contribution and review by adding comments to show students what type of interactions you are hoping to occur. This type of modeling helps students start to participate in this exercise of feedback.
"I most enjoyed building off of each other's ideas and giving feedback to one another."

EMC student employee, Summer 2021
Organization
The "Daily Scrum" is a process that helps inform team members of the status of individual tasks. Each team member briefly provides the answers to the following three questions:
What are you working on?
What are you going to work on?
What, if any, challenges do you have?
In the EMC we utilize the Daily Scrum at the end of each work shift. Students enter their answers to the above three questions into Trello, the platform we use for project management. This process helps the team work together, accomplish the goals they agreed upon, and provide each other with feedback.
Potential implementation // Encourage students to work together for a few hours 2-3 times per week to spread out the project/assignment. They should answer the three questions in a shared Google Doc, Sheet, or Canvas discussion after each work session. Encourage students to review each other's statuses and offer suggestions.
Status updates also allow you to see what everyone is working on, whether the project is headed in the right direction, and how efficiently tasks are getting done. You or team members can help to mitigate challenges before too much time passes.
"I think the biggest challenge was trying to get students to work on the weekly assignments throughout the week versus right before class. […] I think the main cause of this was that their tasks seemed like homework – which many do right before class."

EMC student employee and class project lead, Spring 2021
Meetings
In the EMC, we meet at least once a week to do a quick review of the needs of the project and plan how the team is going to work that week to contribute to the deliverable. Weekly meetings help the team review their goals and decide together what needs to be done next. Meetings also help with accountability and creativity, since they can often become a "show and tell" time when students share exciting ideas they found through their work.
Potential implementation // Allowing students 15-30 minutes of class time to meet weekly or giving time to set up a group meeting outside of class helps them self-organize without the stress of trying to fit it into their already busy schedules. A written summary of this meeting that all can access, including a list of tasks and people responsible, is super helpful.
"I enjoyed the team meetings where we all discussed the project and made significant progress together."

EMC student employee, Fall 2021
Communication
The professional world suggests replying to communications within a 24-hour timeframe, and the EMC promotes this best practice. Team members will be working in between project meetings and may have questions or run into challenges that need to be addressed. Responding to communications within 24 hours helps keep the project moving forward.
Potential implementation // At the beginning of each project, we tell students that we expect a response to communications from team members or project leads within a 24-hour time period. We also create a Google Chat channel for announcements, questions, and collaboration.
Expectations
The deliverable of a collaborative assignment or project depends on all members of a team contributing. Setting expectations together at the beginning of the project allows the team a place to start. When everyone is contributing, a more unique, innovative, and fun experience results.
Potential implementation // Help the group understand the consequences of breakdowns in contributing, participating, or returning communications. Clear expectations help groups navigate social and professional dynamics.
Takeaways
Autonomy + Organization + Meetings + Communication + Expectations = Higher-Quality Collaboration and Engagement
Providing a foundational approach sets a team up for success. It can help increase the student experience of group work as well as enhance the final product. Teams will learn to speak the same language, prioritize as a group, and work together to achieve a common goal. Allowing teams to self-organize and choose a way forward can help increase engagement.
Try one or a combination of the processes in this post in your next assignment or project. Initiate more processes as you become more comfortable adding them into your coursework.
Interested in learning more or having the EMC help set your students up for success with group work? Reach out – we are here to help!
Check out our Blog | Vimeo | Facebook | Instagram to learn more about our projects and student stories.