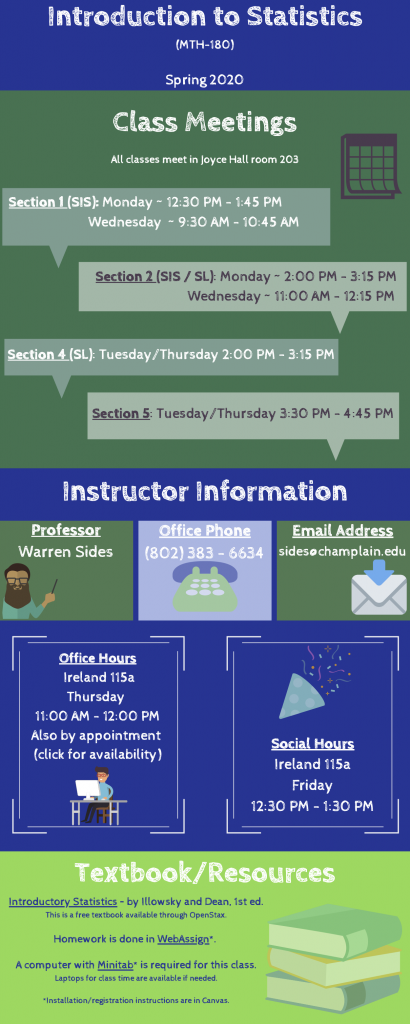 From Syllabus to Student Engagement
What if a professor created syllabus that more accurately communicated their passion for their subject matter and their enthusiasm for student-centered learning? What if a syllabus could be dynamic enough to allow for nimble, timely and innovative teaching opportunities? What if a syllabus could show how creative the learners and the instructor will be during the semester?
Ken Bain, in his book, What the Best College Teachers Do (Harvard University Press, 2004), explores how changing the idea of what a syllabus is can stimulate deep and more enthusiastic student learning. He concludes that the best college teachers provide the students with a "promising syllabus"–that is, a syllabus as a promise offered to students to start a conversation. The promise of such a syllabus is a clear learning process and a way for students to monitor the progress they are making in their learning. It is an invitation. Sometimes what we serve up as a syllabus feels less like an invitation to a promising feast and more like an obligatory second helping of spinach, plopped on the plate by someone stating "It's good for you."
Defining a Syllabus
A syllabus is often called a contract, agreement, schedule, curriculum or outline. In academia, the syllabus is a document that summarizes the course information, outlines the course curriculum and states the expectations of the teacher and the learner.
While it is absolutely essential that a syllabus help create a strong framework to help the professor and students stay organized and synchronized throughout the semester, it is unfortunate that the very definition implies an agenda, driven by an instructor to which a student must comply. It is often the case that a professor defaults to using the same type of black and white, multi-page, text-heavy word document that they received when they were students. Unfortunately, students do not necessarily find any value in a syllabus like this. Instead, they accept it as a tool to help them check off the readings and assignments or strategically get a satisfactory grade.
From Teaching Philosophy to Engaging Syllabus
In many ways, the syllabus is rooted in the instructor's philosophy of education and view of the educational process. To create a syllabus that aligns with a particular philosophy of education, a professor must consider their beliefs about the roles of the student, the teacher, the activities and the materials. The professor who creates an engaging syllabus is cognizant of three key ideas:
First, they have a strong sense of their individual teaching style and have the ability to communicate it to their student. Parker Palmer, in The Courage to Teach, reminds us that the most valuable teaching is born from the values and integrity of the instructor (Jossey-Bass, 2007).
Second, they help students make connections between the course content and the course goals. When a professor can clearly articulate the course goals for the students, they can design the course in a backward way to ensure that each body of knowledge, skill and experience is available and accessible to all students.
Finally, they communicate a clear understanding of what students need to be successful in the profession to which the students aspire. Such knowledge ensures a commitment to creating meaningful and authentic assignments.
Making a Syllabus More Engaging
Champlain College Syllabus Requirements
The Champlain College Syllabus Requirements are available on the Champlain College website.
Syllabi are an important part of meeting Champlain College's current mandatory Course Standards. The standards include uploading the syllabus to Canvas.
Every course syllabus must include the Mandatory Verbatim Text (see the Syllabus Requirements for more information). For the convenience of CC professors, the Canvas Course Syllabus page for every course shell now includes a table with links to the mandatory elements. Do not delete the table.
As of Spring 2021, Champlain College syllabi must include a Diversity, Equity, and Inclusion statement. Suggested language can be found in the DEI Toolkit. Contact the Center for Learning and Teaching if you are missing access to the DEI Toolkit. If you would like to create your own syllabus language, we recommend consulting the Toolkit and the DEI Faculty Training.
Further Resources
CLT Offerings:

One-on-one coaching (make an appointment) on:

Space for collaboration and quick questions (with free coffee!) any weekday, 9am-5pm, on the second floor of the Miller Information Commons

Research and further information:

Richmond, A. S., Slattery, J. M., Mitchell, N., Morgan, R. K., & Becknell, J. (2016). Can a learner-centered syllabus change students' perceptions of student–professor rapport and master teacher behaviors?Scholarship of Teaching and Learning in Psychology, 2, 159–168. 10.1037/stl0000066
Overman, A. A., Xu, Q., & Little, D. (2020). What do students actually pay attention to and remember from a syllabus? An eye tracking study of visually rich and text-based syllabi. Scholarship of Teaching and Learning in Psychology, 6(4), 285–300.