Have you ever felt overwhelmed by the variety of resources about teaching and learning out there? It's hard to know where to start. Thanks to collaborative work by the CLT team and faculty colleagues, we are excited to announce a new tool you can use to explore a curated list of high-quality resources!
You might be familiar with the bibliographic tool Zotero, or similar tools like EndNote or Mendeley. (If you're not, and you want a way to organize your research, ask Caroline for an introduction to Zotero.) We've taken advantage of Zotero's cloud-based shared library tool to create a searchable list of some of our favorite books, articles, and resource websites. This growing catalog spans topics including classroom teaching, hybrid course design, equity and inclusion, faculty well-being, and more. It's also fully searchable, or you can explore by category or tags. Some items even have summaries or comments from the people who recommended them.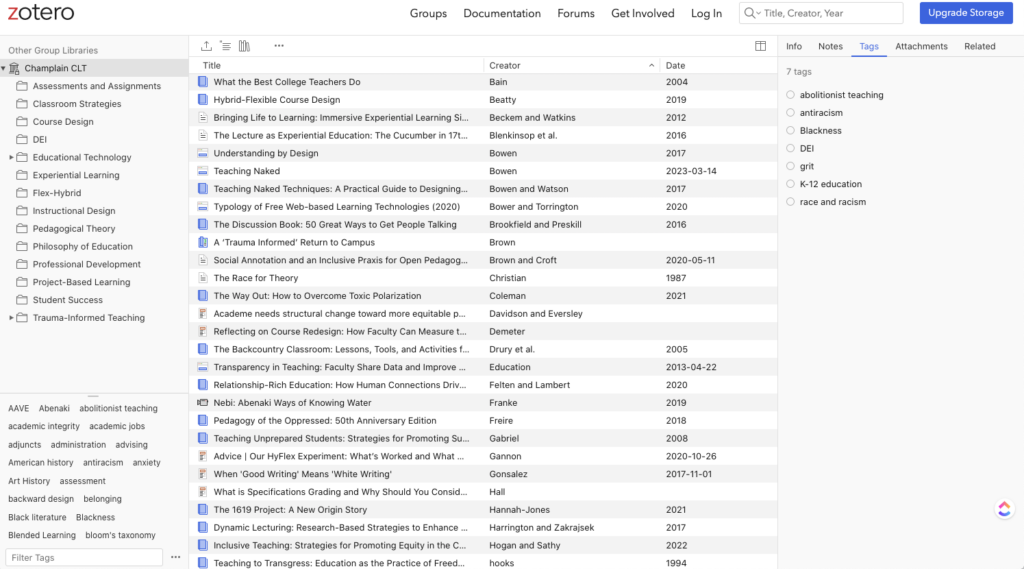 This is a great way to choose some summer professional development reading, if you have the bandwidth. Or you can use it as a starting point for finding resources to work on specific aspects of your teaching.
While our bibliography is far from a complete list of even our favorites, we'll continue to add to it. We also welcome your suggestions! You can email Caroline the title, author, and other relevant details of your favorite works on teaching, with a short statement of why you recommend them.