Every semester, many Champlain faculty and staff give their time and energy to help the CLT provide the best services it can. Your faculty peers have led workshops, presented their research, shared their wisdom to new faculty, written for this blog, and more! Without these colleagues, we could not offer the array of programs or share the wealth of knowledge that we do. Thank you to all our contributors, and to everyone who has participated in CLT programs this semester!
If you would like to explore the recognition in an accessible format, click here.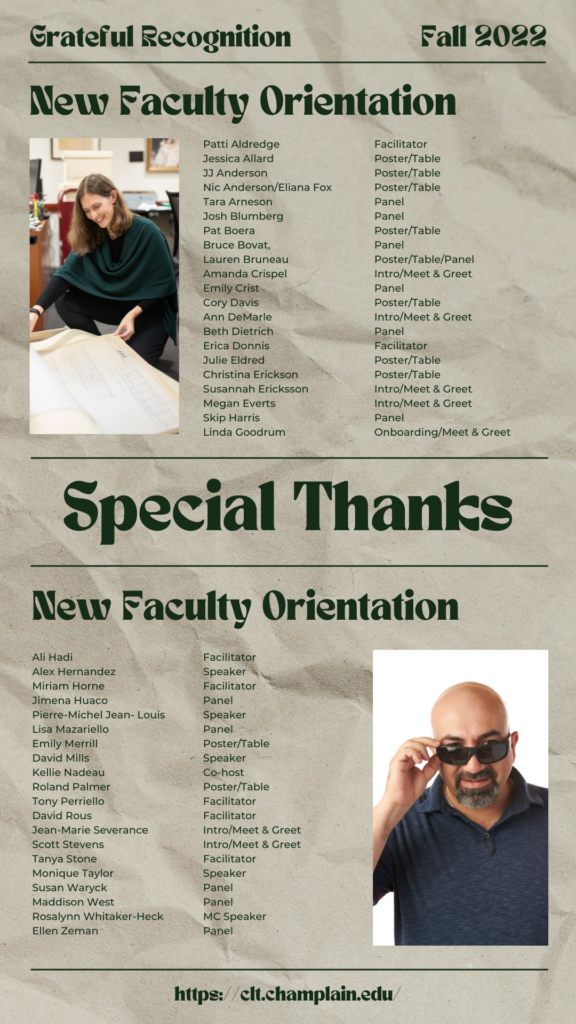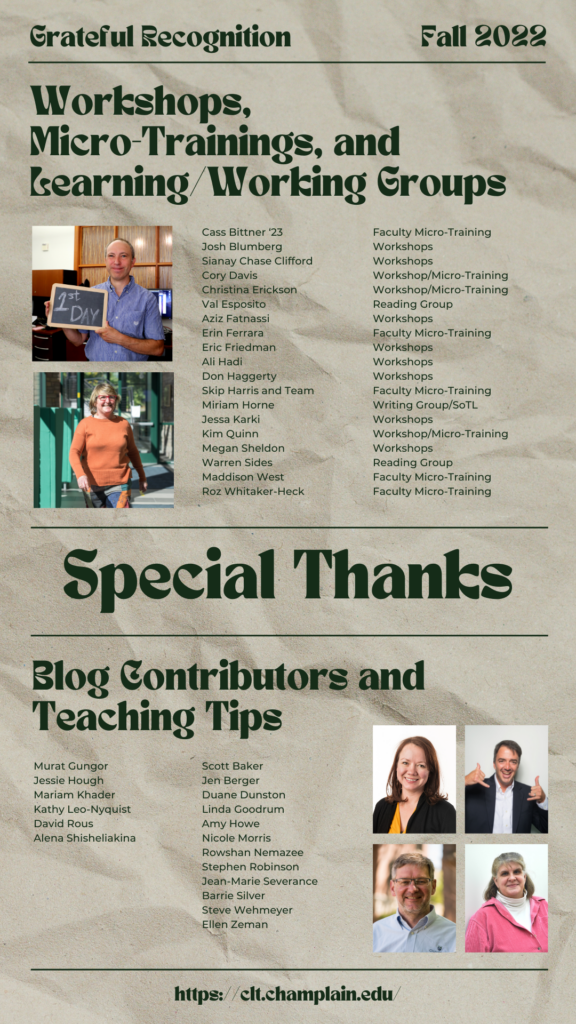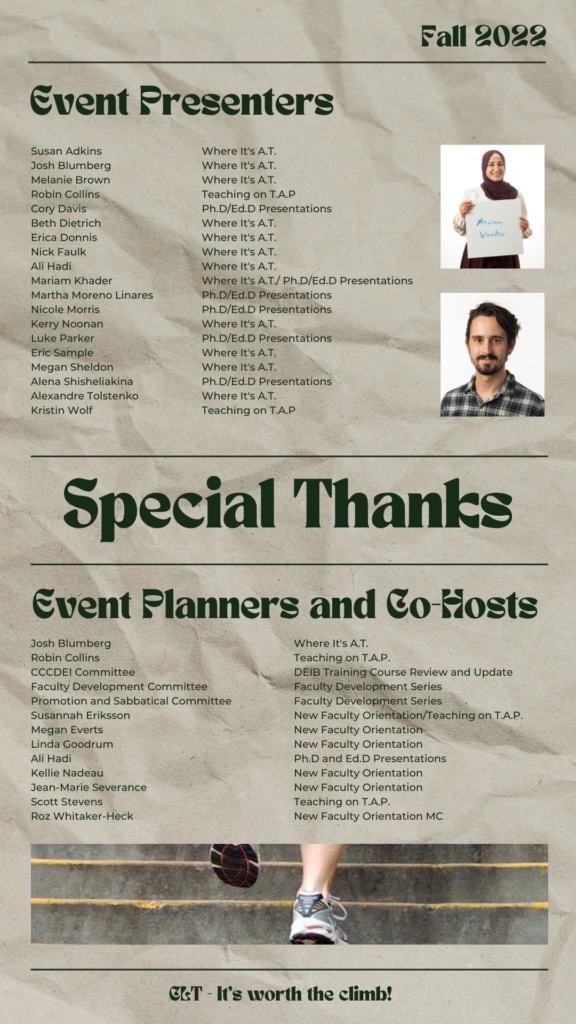 List of Contributors
New Faculty Orientation
Patti Aldredge
Jessica Allard
JJ Anderson
Nic Anderson
Tara Arneson
Josh Blumberg
Pat Boera
Bruce Bovat
Lauren Bruneau
Amanda Crispel
Emily Crist
Cory Davis
Ann DeMarle
Beth Dietrich
Erica Donnis
Julie Eldred
Christina Erickson
Susannah Eriksson
Megan Everts
Eliana Fox
Linda Goodrum
Ali Hadi
Skip Harris
Alex Hernandez
Miriam Horne
Jimena Huaco
Pierre-Michel Jean-Louis
Lisa Mazzariello
Emily Merrill
David Mills
Kellie Nadeau
Roland Palmer
Tony Perriello
David Rous
Jean-Marie Severance
Scott Stevens
Tanya Stone
Monique Taylor
Susan Waryck
Maddison West
Roz Whitaker-Heck
Ellen Zeman
Workshop, Reading Group, and Learning Community Facilitators
Cass Bittner '23
Josh Blumberg
Sianay Chase Clifford
Cory Davis
Christina Erickson
Val Esposito
Aziz Fatnassi
Erin Ferrara
Eric Friedman
Ali Hadi
Don Haggerty
Skip Harris (and team)
Miriam Horne
Jessa Karki
Kim Quinn
Megan Sheldon
Warren Sides
Maddison West
Roz Whitaker-Heck
Blog and Social Media Contributors
Blog
Murat Gungor
Jessie Hough
Mariam Khader
Kathy Leo-Nyquist
Luke Parker
David Rous
Alena Shiskeliakina
Social Media Teaching Tips
Scott Baker
Jen Berger
Duane Dunston
Linda Goodrum
Amy Howe
Nicole Morris
Rowshan Nemazee
Stephen Robinson
Jean-Marie Severance
Barrie Silver
Steve Wehmeyer
Ellen Zeman
Event Presenters
Where It's A.T. (Academic Technology Showcase)
Susan Adkins
Josh Blumberg
Melanie Brown
Beth Dietrich
Erica Donnis
Nick Faulk
Ali Hadi
Mariam Khader
Kerry Noonan
Eric Sample
Megan Sheldon
Alexandre Tolstenko
Recent Ph.D./Ed.D. Presentations
Cory Davis
Mariam Khader
Martha Moreno Linares
Nicole Morris
Luke Parker
Alena Shisheliakina
Teaching on T.A.P.
Robin Collins
Kristin Wolf
Co-hosts, Event Planners, and Other Contributions
Josh Blumberg
Robin Collins
CCC-DEI Committee
Faculty Development Committee
Promotion and Sabbatical Committee
Susannah Eriksson
Megan Everts
Linda Goodrum
Ali Hadi
Kellie Nadeau
Jean-Marie Severance
Scott Stevens
Roz Whitaker-Heck