After writing their way through the city, Nicole Rourke's (centre) class poses Last Supper-style
Dr. Stephen Robinson, Director and Professor at Champlain College Dublin, gives a glimpse of place-based experiential learning in Dublin.
A semester abroad is a great opportunity for students to expand their horizons, immerse in new cultures, gain confidence, and even travel a bit. And of course it is also a great opportunity to take advantage of academics that may be slightly different to what a student is accustomed to. In Dublin, we pride ourselves in offering students direct, hands-on experiential and place-based learning opportunities. These allow for a more authentic educational experience by leaving the traditional setting of the classroom and exploring all that the city has to offer. Not only are we showing students around a great country, but encounters in the city and community raise intercultural communication competencies.
'Using the City as a Classroom' is our unofficial motto here. Our historic academic centre is located in the heart of Dublin city, well within easy reach of museums, galleries, historic sites, and local businesses. The opportunities for experiential learning are endless with such amazing resources on our doorstep. All of our faculty here in Dublin are locally hired, most have lived in Dublin their entire lives, and are passionate in teaching about the city and country they love. It's an infectious and impactful type of teaching that rubs off on students.
Jacinta Kendrick, Champlain Dublin's Irish Art instructor said that 'the wonderful thing is that I can meet the students in the classroom for 45 minutes or so, and then we can walk down to the National Gallery to see art in person. It's much better than learning about Irish art by projecting it on a screen. Everything is so close and on your doorstep here.'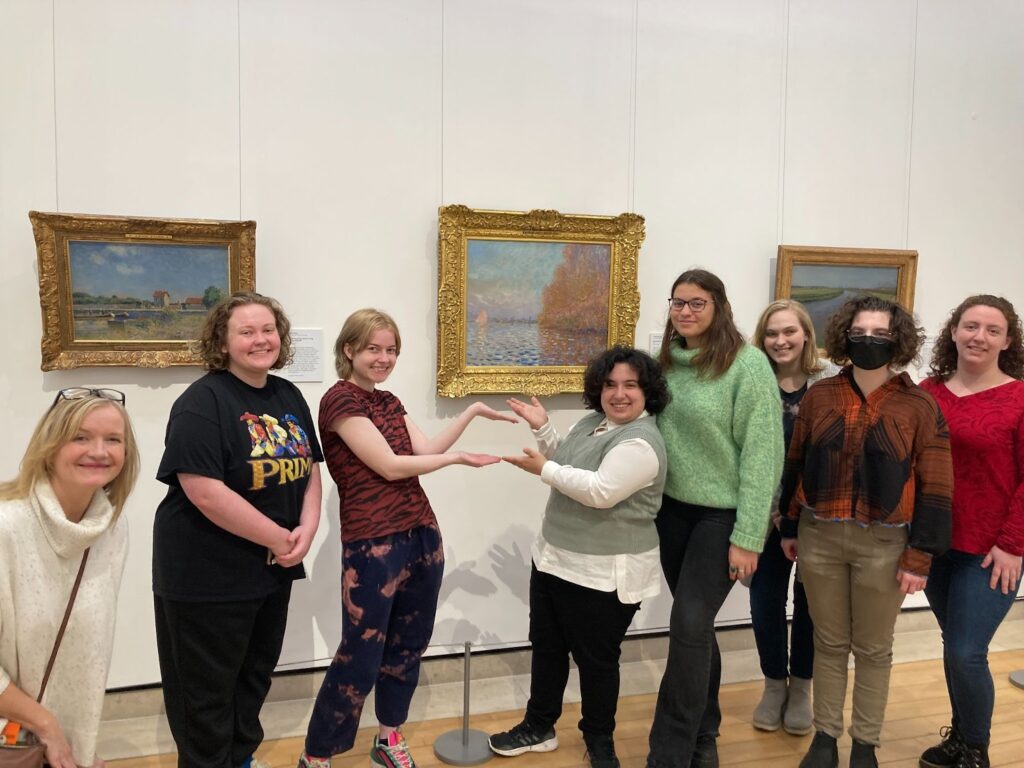 Nicole Rourke, our instructor for Writing the City, gets her Dublin students to 'explore the physical and emotional landscape of the city and use it as their canvas to create unique impactful stories'. Her classes use 'random acts of writing' that take the students on walks through the city using particular landmarks as a writing prompt.
'What happens is the students literally get to 'Write the City', Rourke said. 'As an example, students sit on the boardwalk by the river with a choice of 3 prompts; write either in the voice of the River Liffey, the voice of the Ha'penny Bridge, or the voice of the seagull'. Rourke comments that in Dublin 'the seagulls actually control the city'. This exercise has inspired some fantastic stories in which the students literally write creatively as they are in place, immersed in the goings-on of the city.
Nicole commented that 'this is an impactful teaching method as it deals with real time and is hands on. It brings the subject into the life of the student as opposed to being separate, the subject is entwined into their life, as opposed to life and school being separate. They pound the pavements and touch the bronze of the statues. You don't get that type of learning impact if you just stay in the classroom'.
Students returning to Burlington from Dublin will have had an experience significantly different from their peers. Yet based on our conversations with students after they return to the U.S., much of it only sinks in after their return. Ideally, Burlington-based faculty could afford an opportunity for returning students to reflect on the experience in front of their peers, perhaps through a presentation or leading a discussion.
While international and intercultural campus initiatives are important and beneficial, nothing can compare with the actual experience of being somewhere different and needing to communicate effectively. Experiential learning opportunities such as those provided in Dublin serve to make our students better communicators and also raises intercultural competencies.
We are very proud of what we have built here at Champlain Dublin. So far we have welcomed over one thousand students through these doors…and here's to many more!